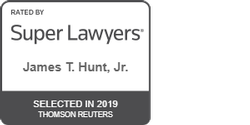 James Hunt is a former BigLaw attorney who is able to leverage his breadth of litigation and corporate experience to help his clients achieve their desired results. Jim assists an array of companies with the legal infrastructure necessary to run and protect their businesses properly, including complex commercial agreements, customer and vendor contracts, non-competes and a variety business litigation disputes. Jim also advises start-up companies in technology, banking and other sectors. Jim litigates an extensive variety of complex business, commercial and injury cases in New York, New Jersey and Pennsylvania state and federal courts. In the courtroom, Jim routinely tangles with many of the nation's biggest law firms. Jim has litigated all over the country.
Jim assists clients in a number of different industries successfully deal with a variety of different business-related disputes and litigation, including complex commercial and business litigation, consumer fraud litigation, employment disputes, internal investigations, business divorce and LLC break-up litigation, franchise litigation, business torts, RICO and noncompete agreements. Jim also advises start-up companies in the technology sector. He has published articles and been a speaker at continuing legal education (CLE) courses about fraud defense and contract litigation, including his article, "The Masquerading Fraud Claim," published in the New Jersey Law Journal. Indeed, Jim's legal opponents often refer cases to him because of his fierce advocacy and down-to-earth likeability.
Some of Jim's recent successful representations include:
Drafting and negotiating service agreements for an IT outsourcing client in a deal with a leading television network
Resolving a noncompete/restrictive covenant litigation dispute for an online company
Successfully and quickly resolving a business dispute involving IT consulting companies to avoid lengthy and expensive litigation
Winning an appeal at the Appellate Division of New Jersey involving interpretation of a contract provision that imposed personal liability on business owners for a major advertising company
Successfully obtaining dismissal of Consumer Fraud Act and RICO claims against a major media and advertising company client
Defending and negotiating settlement of an insurance bad faith claim arising out of a personal injury caused by a hunting knife, which occurred in Wisconsin
Defending and negotiating settlement of a claim for actuarial malpractice in a New Jersey case
Winning an appeal in a New Jersey lawsuit involving a contract dispute over the construction of a restaurant at The Pier at Caesars, Atlantic City
Obtaining dismissal of a Consumer Fraud Act and breach of contract lawsuit for a major telecommunications company client in a New York case
Winning an appeal for a casino client in a case involving a casino patron alleging he lost thousands of dollars gambling while drunk
Winning an appeal involving a lawsuit against a CEO client alleging securities fraud
Prior to joining Tenaglia & Hunt, Jim was a litigation attorney at Latham & Watkins LLP, one of the biggest law firms in the United States. Admitted to practice in 1999, Jim served as a law clerk to the Honorable Nicholas H. Politan, United States District Court, District of New Jersey from 1999-2001.
Education and Honors
Seton Hall University School of Law, J.D., 1999, magna cum laude

Member, Constitutional Law Journal

Swarthmore College, B.A., 1996
Only five percent of attorneys in the state are named by Super Lawyers annually. The designation is granted to attorneys who demonstrate the highest levels of legal ability and integrity as determined by their peers and independent research. The multiphase research process, performed annually, consists of a statewide survey of lawyers, independent evaluation of candidates by the attorney-led research staff, a peer review of candidates by practice area and a good-standing and disciplinary check.
New Jersey Super Lawyers selects attorneys using a multiphase selection process that combines peer nominations and evaluations with independent research. Candidates are evaluated on 12 indicators of peer recognition and professional achievement. Selections are made on an annual, state-by-state basis. Additional information is available at www.superlawyers.com/about/selection_process.html.
Per the Committee on Attorney Advertising Ethics Opinion 42, this advertising is not approved by the New Jersey Supreme Court.
Admissions/Court Memberships
New Jersey
United States District Court, New Jersey
Third Circuit Court of Appeals
New York
Pennsylvania
Professional Affiliations
New York, Southern and Eastern Districts of New York
New Jersey, United States District Court, New Jersey, Third Circuit Court of Appeals
Pennsylvania, Eastern District
What Clients Say About Jim
"For almost five years, I traveled around the country attending court ordered hearings (trial, ADR, depositions, etc.) as a corporate representative for commercial litigation purposes and Jim was one of the most organized, prepared and effective attorneys that represented my former employer. Jim was not only extremely diligent in case preparation and a formidable trial advocate that commanded an audience but placed a premium on managing client relations. Jim understood the efficacy in understanding the business ethos and culture of those he aggressively represented in order to more effectively and efficiently serve the interests of his clients. If your primary concern is to ensure that your claim is represented with the highest degree of professionalism and a focus on measurable results, I recommend the legal services of Jim Hunt!"
____
"When something unfortunate happens to you as the result of a large corporations neglect the process can be extremely overwhelming. I quickly learned you need a calm, experienced attorney to guide you through the unfamiliar legal waters and Mr. Hunt is exactly that.
This was my first experience with a personal injury case and from start to finish I couldn't have asked for anything more. Mr. Hunt was in constant communication and I never felt out of the loop.
As a client I felt my best interests were a priority and my personal opinions were always taken into consideration.
We just recently settled my case without having to go to court, which was something I dreaded. I'm extremely pleased with the settlement agreement and Jim's ability to settle the case outside of the courtroom.
He was recommended by a family member and now I know why."
____
"Jim is excellent to work with. Persistent, thoughtful and creative. Able to clearly see opportunities to apply legal doctrine. I will use Jim again when the opportunity arises."
____
"When my children and I were served with a federal law suit, I didn't have knowledge of an attorney with federal experience. After contacting a few attorneys, we were advised that this would be very costly to defend. Although, this is a frivolous lawsuit and the allegations are unfounded, we still needed a defense attorney.
A very close friend of mine recommended Tenaglia and Hunt. I had a 3.5 hour free consultation with Jim Hunt and Jim Donohue. After the consultation, I knew my case would be handled with expertise and professionalism. Jim Hunt diligently worked on my case and contacted my homeowner's insurance company to cover my legal fees. The claim was rejected at first. Jim thoroughly read the policy and discovered the insurance company was responsible in covering this frivolous lawsuit. Fortunately, we will be reimbursed, thanks to Jim.
In my frequent conversations with Jim Hunt, he put my mind at ease and made me feel like a friend and not just a client.
When my family and friends ask me for an attorney recommendation, I recommend Tenaglia and Hunt with my highest regards.